Identity Theft Protection
LAFCU, in partnership with CyberScout, offers comprehensive FraudScout identity management and monitoring services.
Identity thieves are looking for ways to make easy money off your personal information. Medical records, mortgage applications and credit card offers—you name it and thieves will try to take advantage of it. That's why a good offense is critical to defending your identity.
CyberScout delivers a powerful one-two punch for helping to prevent and resolve fraud with comprehensive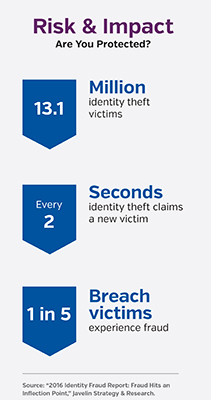 services that include:
Credit and fraud monitoring. Web-based services that scour millions of identity records and sources, alerting you of potential issues.
Proactive educational information and tools. Find out how at risk you really are, and learn how to secure you and your family's identity.
Full identity theft recovery assistance. Rely on experienced fraud specialists 24/7 for advocacy, guidance and personalized help.
Document and identification replacement. Get help replacing critical documents that are stolen or lost in a natural disaster.
Don't wait until you are a victim! Protect yourself for as little as $45.00 a year (for the minimum plan), $75.00 a year (for a moderate plan), or as little as $135.00 a year (for maximum coverage).
Powered by

Go to main navigation